Co-Webinar with Rise.ai, Loop Returns, & ShipBob
This year, BFCM takes place over November 26-29, 2021. Shipping orders to your customers is always a top priority and you should prepare for a high volume of activity across the network. The small window between BFCM and the holidays doesn't leave a huge margin for error in the best of times.
However, ongoing supply chain issues affect a large number of businesses globally. The economy is affected by all types of global supply-chain issues, causing product shortages. Around the world, restrictions around Covid19 are still changing every day with many businesses remaining closed off. Rules around safety and shopping in-store are constantly changing.
The impact of this will be felt by businesses first, followed closely by their customers who may not be able to get the products they want in time for the holidays. With such a tight window between Black Friday/Cyber Monday and the holidays themselves, this could pose a serious issue.
The Key to this year Shipping Cutoff:
So how can eCommerce businesses thrive in this challenging ecosystem? This webinar discusses different strategies to win this holiday season.
The ability to deliver a great shopping experience across all the touchpoints is one major step toward success in the 2021 holidays. This webinar will provide key steps to take, which can increase customer engagement, loyalty, and sustainable revenue and profits.
For small to mid-sized businesses, trying to manage this year's BFCM is an extremely difficult task. Join us to learn how to do it right.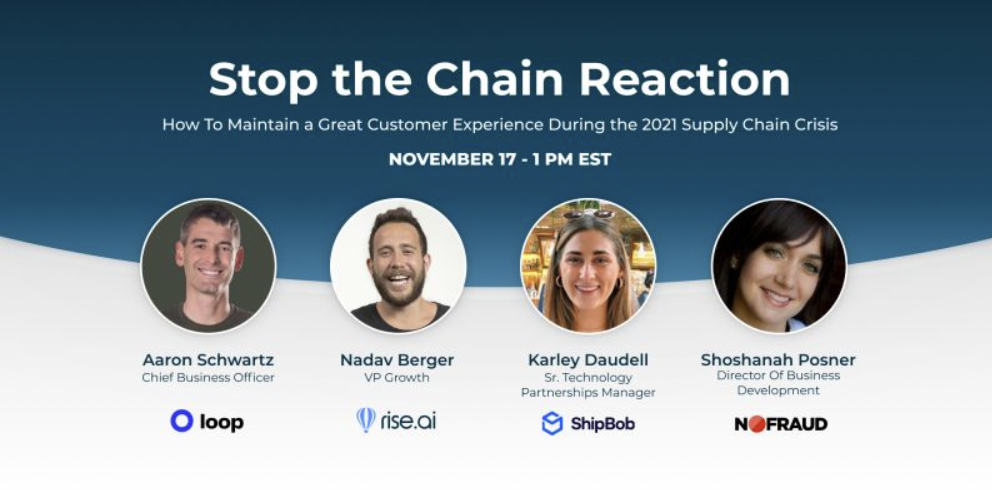 Speakers
Karley Daudell – Senior Technology Partnerships Manager @ ShipBob
Karley Daudell oversees technology partner relationships at ShipBob. She has been with the company for 4+ years working closely with merchants to identify technology gaps that can be filled with ShipBob's partner network. Originally from Chicago, she now lives in Los Angeles where she enjoys surfing and yoga.
Shoshanah Posner does the business development for NoFraud, a fraud prevention solution for eCommerce businesses that has been protecting businesses against fraud since 2013.
David Dustin – VP of Partnerships @ Loop Returns
David is the VP of partnerships @ Loop Returns the best returns platform for Shopify Brands. He's spent over a decade leading sales and partnerships for eCommerce and internet marketing companies. He has a goal to climb the contiguous 48 states' 70 tallest mountains. So far he's climbed 27.
Nadav Berger, VP Growth @ Rise.ai, the leading Gift Card and Store Credit solution for online brands. With over 7 years of experience in eCommerce, specifically in customer engagement and retention strategy.
Aaron is a 3x founder, and currently serves as the Chief Business Officer at Loop Returns, the best returns platform for Shopify brands. He's spent over a decade focused on commerce, including at Returnly (CBO), Passport Shipping (Co-Founder) and Modify (Founder). He's got 2 great kids.