Returns are notorious for being a logistical nightmare and cost burden for e-commerce businesses, with consumers insisting on free return shipping and no questions asked refund policies. What began as well-intentioned, consumer-friendly policies opened the door to bad actors exploiting the rules and behaving in ways not typically seen in brick-and-mortar stores where face-to-face returns are required.
Dishonest consumers feel emboldened by the anonymity of online returns, justifying their behavior as "friendly fraud." However, by taking advantage of the returns process, consumers are deceiving e-commerce businesses, eating into already slim profit margins, straining resources, and devaluing inventory for their gain. When did this become an acceptable cost of doing business?
Perhaps underestimated are the environmental impacts of returns from CO2 emissions and packaging and the misconception that merchants resell the goods. Estimates of 5.8 billion pounds of returned merchandise ending up in landfills during 2020 should be a sobering thought.
In the 1960s, when frustrations with five-fingered shoplifting became widespread, stores moved to implement EAS tags as a loss prevention measure. Fast forward to 2022, the e-commerce industry is in desperate need of the same proactive solution, in a home-removal form, to stem the tide of online return fraud.
With receipted return policy abuse on the National Retail Federation's radar, it is time to establish how $23.2 billion in online returns were deemed fraudulent in 2021 and what new loss prevention measures can curtail this trend.
Types of Return Fraud
Wardrobing / Wear & Return
Wardrobing, or wear and return fraud, is the most recognized type of receipted return policy abuse. In this scenario, a consumer buys merchandise with the intent of using it for a short period of time and then returns the item for a full refund by misrepresenting the reason for the return. With free shipping, free returns, and extended return windows, consumers exploit the returns honor system when they fraudulently use and send back non-defective merchandise at no cost.
Special occasion events like proms, weddings, interviews, parties, date nights, and family photos are classic targets for wardrobing return fraud. The social pressures of not wearing the same outfit twice or always wanting to be seen in the latest trends trump people's moral conscience.
What is most concerning is that this type of fraud is not undertaken by seasoned criminals but by consumers who knowingly defraud the system. In a 2020 survey by Secure Authentication Brands LLC, 37% of respondents admitted to wardrobing. Worryingly, most respondents would not be considered likely return fraud perpetrators; 63% were college graduates, 58% make over $50K/year, and 61% were Skilled, Professional, or Managerial employees.
The prevalence of designer hangtags attached with petite safety pins or colored cords neatly tied in a double knot makes this deceptive practice straightforward. Any tag that can be hidden or removed and reattached to an item without evidence of tampering creates an opportunity for return policy abuse.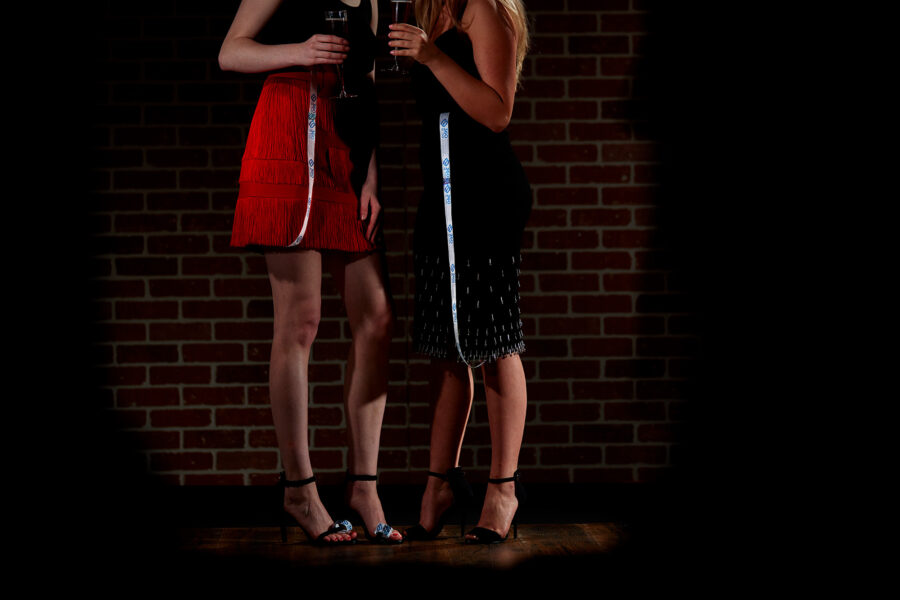 Another e-commerce category rising in prominence is the resale of preowned items. Merchandise with existing signs of use or wear is susceptible to wardrobing. The consumer has no wear evidence to cover up and no original tags to hamper their fraudulent actions. No longer just limited to online marketplaces like ebay, fashion brands and dedicated e-commerce businesses, driven by the push for sustainability in the fashion world, are embarking on new ventures in the resale market. It's a dream scenario for wardrobers.
Snap-and-send-back
Do you agree with this statement?
Influencers and fashion bloggers should be allowed to buy the latest fashion, take photos of themselves wearing the items, blog about their on-trend outfits, and return them to the e-commerce business for a full refund.
Recently, a blogger did precisely that when she returned 85% of the items she purchased from a retailer within the return window. This is a gross exploitation of merchants' return policies but is becoming more common as social pressures and the desire for consistent engagement of followers forms the backbone of the fashion influencer world. Imagine if all consumers engaged in this practice!
Snap-and-send-back has become so prevalent that ASOS, a UK-based online retailer, announced tracking social media accounts of serial returners, blocking those abusing their return policy.
Counterfeit product switches
The rise of e-commerce has aided the proliferation of counterfeits circulating globally. While not a new concept, consumers can now acquire counterfeit items from difficult to police third-party sellers, which presents opportunities for product switching.
Imagine this scenario: a scammer buys a counterfeit item for a fraction of the actual item's price, purchases the genuine article from an authorized seller, and returns the fake to that seller for a full refund. Yes, e-commerce businesses need to be concerned. This problem is exacerbated by the increasing quality of counterfeit items, sometimes produced in the same factory as the genuine article.
With returns reaching 30%, even the most vigilant e-commerce business may miss spotting the counterfeit switch, proceed to place the product in the reverse logistics channel, and unknowingly put their reputation at risk by reselling the fake to a legitimate consumer.
Cross-retailer return switches
Cross-retail returns are another example of bad actors exploiting generous return policies for their gain. In this situation, the consumer takes an item; stolen or purchased elsewhere for a lower price; initiates an in-store, non-receipted return, and receives a refund in the form of a gift card or cash.
This practice is most widespread when stores are busy during the holidays, and price discounts are typical.
Tag switches or retagging
Items most at risk from being fraudulently returned are those tagged with a standard plastic barb. For under $10, consumers can purchase a 1000 barb tagging gun kit from Amazon and retag or switch tags effortlessly and cheaply.
Tag switching and retagging is a method used by dishonest buyers to return less expensive but similar-looking items at higher prices and profit from the price differential.
New eCommerce Return Fraud Solution
360 ID Tag – a single-use, tamper-evident return tag
Achieving balance with returns comes with recognizing the two sides of the equation. On the one hand, consumers' expectations of generous return policies are deemed essential for customer loyalty and satisfaction. On the other hand, businesses face harsh economic realities handling their reverse logistics operations.
A blanket, one-size-fits-all approach that penalizes honest shoppers with stricter return policies to quell instances of return policy abuse is not a tenable solution. Instead, preventing the bad actors from carrying out their return fraud tricks is the ultimate move e-commerce businesses, and marketplace sellers can make to protect their merchandise. A new home-removal, secure return tag that deters return fraud strikes the perfect balance by eliminating opportunities for deception without alienating honest buyers.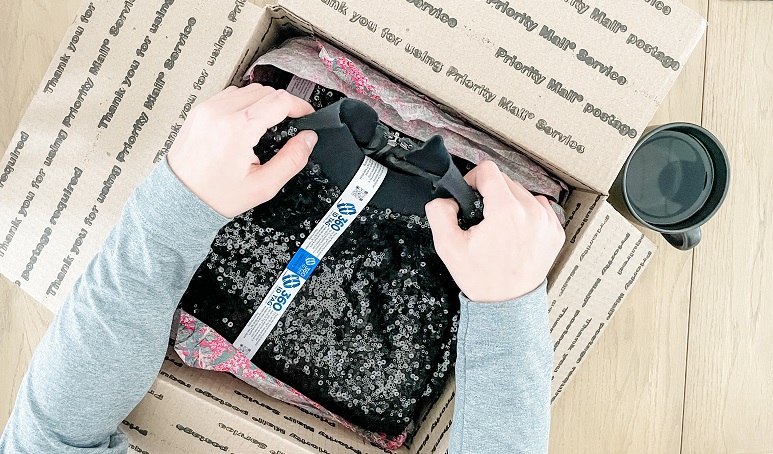 Invented by an ebay seller who needed to protect designer dresses from being worn and returned, the patent-pending 360 ID Tag is a win-win for honest consumers and businesses pushing back against return policy abuse. By strengthening existing return policies, the tamper-proof tag gives e-commerce businesses a low-cost and practical loss prevention solution to deter return fraud and eliminate losses and reverse logistics challenges attributed to this growing problem.
ABOUT 360 ID TAG
Designed to combat return fraud, the tamper-evident 360 ID Tag creates a fairer trading environment for e-commerce companies and marketplace sellers. The anti-return fraud tag is a loss prevention tool targeting egregious consumer behaviors such as wardrobing or wear and return fraud, tag switching, snap-and-send-back, and counterfeit product switching. Request more information about the "visible on purpose" 360 ID Tag including customization options.