According to estimates by Insider Intelligence, mCommerce sales will hit $620.97 billion, and account for 42.9% of eCommerce, in 2024.
What is mCommerce?
Mobile commerce, or mCommerce, is the buying, selling or otherwise transacting via a cell phone, tablet or other mobile device. The portability, connectivity and accessibility of mobile devices have contributed to the consistent growth of mCommerce since its appearance in the mid-1990s.
Furthermore, the recent Covid19 pandemic had a considerable impact on mCommerce as a significant portion of the world's population was forced to move their in-person activities online. Reliance on working from home, shopping online, and moving business and personal interactions into a virtual arena, further fueled mCommerce growth.
As businesses adapt to the post-pandemic world and marketplace, understanding mCommerce is becoming ever more vital to the health of every eCommerce business, as eMarketer predicts, mCommerce will double its retail sales by 2025. 
This guide will help shed light on how eCommerce businesses can adapt to an mCommerce marketplace. 
mCommerce vs eCommerce, Understanding the Distinction
Transacting using a desktop or laptop computer connected to the internet is the traditional definition of eCommerce, while mCommerce refers to business conducted via a mobile device using a wireless connection. However, the difference between eCommerce and mCommerce is deeper and more complex than the dimensions of the device and the manner of connection being used.
Consumer behavior, expectation and engagement is very different in mCommerce than in eCommerce. According to GSMA real-time intelligence data, there are 5.13 billion people in the world who own mobile devices, which amounts to 66.5% of the world's population. Having easy access to a device, either while at home, on the go, stuck in queues or traffic, or practically anywhere at all, has caused a major shift in consumer browsing and shopping habits.
Browsing through sites and clicking on links found on Instagram, Facebook or those sent by Whatsapp is a significant driver of mCommerce traffic. However, while browsing is as easy as moving one's thumb, completing a transaction on a small screen has proven to be a major deterrent for many shoppers. Mobile checkout abandonment rates are the highest among all shopper connectivity options.
Cart Abandonment by Device
Smartphone 85.6%
Tablet 80.7%
Desktop 73%  
(source: Brilliance)
To complete a purchase, many consumers prefer to use a larger screen. Hence, the general consensus that mCommerce serves to drive traffic, while eCommerce serves to buy.
Take these Steps to Improve mCommerce
Take Advantage of Mobile Analytics
Unlike a personal computer, mobile devices, just by being carried around, can collect data on consumer patterns and behaviors. Tapping into that technology, businesses can target shoppers using geo-fencing based on a smartphone's GPS signal, and beacon technology that can send automated messages or coupons to consumers as they pass a specific location. While that technology may be out of reach for small eCommerce businesses, there are many ways to take advantage of mobile analytics to gain insights into your customer base to better tailor marketing material.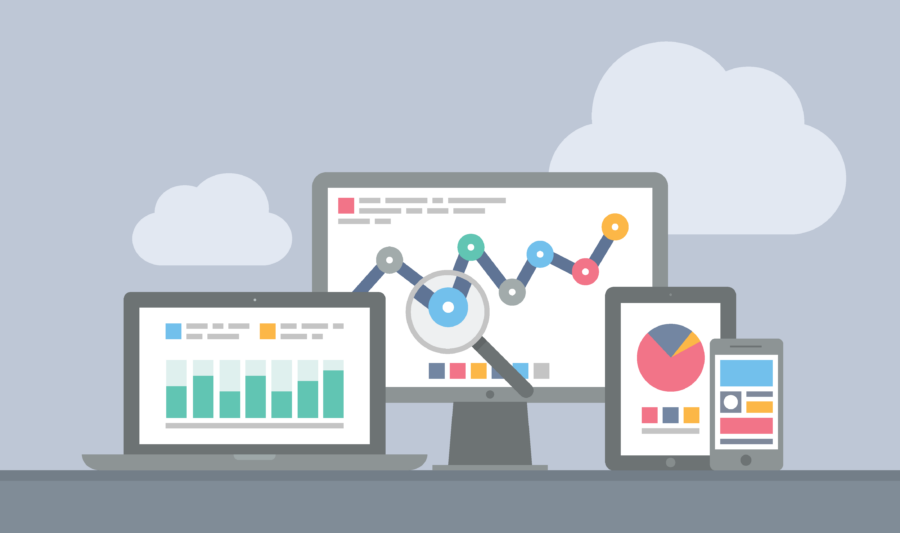 Use Mobile Technology for Promotional Purposes
QR codes that can be scanned using a mobile device are a great little marketing gimmick. Offer customers an opportunity to unlock savings or access private events using QR codes. You can incorporate QR codes on your website, products, or emails to promote your business.
Use the Social Power of Mobile to Connect to Your Customers
Mobile devices play a major role in peer to peer interactions. Tap into the social element of mobile devices via social media or directly to consumers via SMS messaging.
Social media is a great tool for increasing consumer involvement in your marketing efforts. Stackla reports that 80% of consumers' purchasing decisions are highly impacted by user-generated content.
Make a Personal Connection
Take advantage of the many shoppers that browse your site from a mobile device. A simple offer, such as a discount in exchange for an email address, can provide eCommerce businesses with retargeting opportunities. Surveys conducted by Yotpo conclude that 80% of consumers will share personal data with a brand in exchange for a token or discount.
Offer Mobile Friendly Payment Options
As consumers become increasingly more reliant on their smartphones to pay for goods and services, it is imperative for eCommerce businesses to adapt as well. Accepting mobile forms of payment such as Apple Pay, Google Pay, or Paypal can make all the difference between a customer completing a purchase or abandoning a checkout. In fact, according to Javelin Strategy & Research, 32% of eCommerce businesses are investing in mobile wallets due to post-pandemic consumer buying trends.
Step Up Your Customer Service Game
More than ever, consumers are reachable via multiple channels, and expect quick access to information. Call, text, email, and chat are all readily available means of communicating over a mobile device. Be available to answer customer service inquiries across all modes of communication. According to Forrester, 53% of U.S. adults will likely abandon their online cart if they can't find a quick answer to their question.  

Improve Mobile Customer Experiences
Forbes reports that 65% of surveyed consumers would become long-term customers of a brand that provides positive experiences throughout the customer journey. Consider your customers' mobile experience and how it can be improved. Consider the way data is presented on mobile, the ease of purchasing on mobile and the responsiveness of inquiries on mobile.
Consider Developing a Mobile App
Research indicates that 59% of businesses are now investing in developing mobile apps. Mobile web conversions comprise a mere third of all mCommerce sales. Considering that two out of three mobile purchases are made via an app, investing in the development of a mobile app can make an enormous difference to an eCommerce business's bottom line.
Consider this Quick, Affordable Mobile Upgrade
Developing a mobile app and investing in mobile specific marketing campaigns can take time to structure and execute. It can also be a costly endeavor. NoFraud, a fraud prevention solution, developed a revolutionary new Checkout that is being offered as a free upgrade to all their customers.
Considering how many consumers naturally gravitate toward mobile browsing, eCommerce businesses can easily and inexpensively increase mobile conversions by simply bridging the gap between browsing and buying.
NoFraud Checkout reduces mobile cart abandonment by making the checkout experience quick, frictionless and safe. With a minimalist one-page design that fits neatly on a mobile screen, customers can check out with as little as one click. A dynamic interface adapts as customers input their info, to provide merchants with effective fraud prevention for high risk or high value orders. Customers are never required to set up an account or remember a password.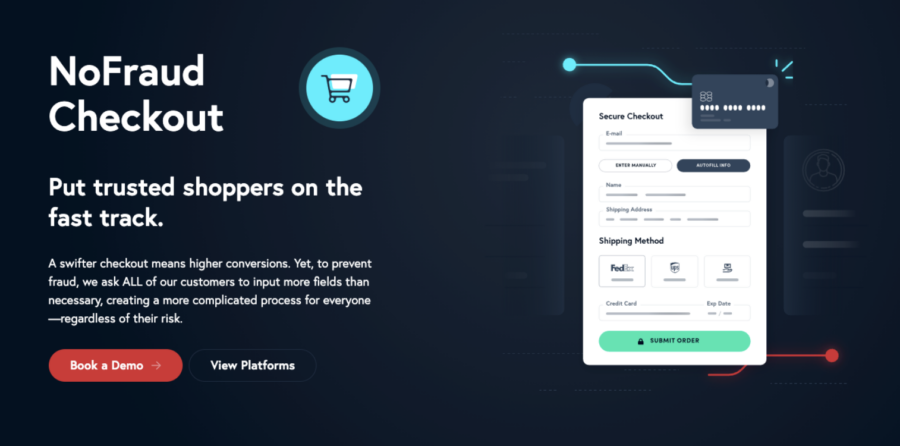 The speed, personalization and security of NoFraud Checkout enhances user experiences and benefits customers and merchants alike by turning more carts into customers.
Learn more about how to increase mobile conversions easily with NoFraud Checkout.